This post contains affiliate links. For more details on what this means, check out my PR & Disclosures.
I've been studying capsule wardrobes for at least 3 years now and have wanted to have them for all of the people in my house. The idea of them is so cool and they supposedly help to decrease the amount of laundry and confusion regarding clothes for everyone. Three years after studying, I've finally taken my first attempt at a preschool girl capsule wardrobe for my 4.5 year old.
DIY Preschool Girl Capsule Wardrobe
My middle child is affectionately known as abc. Like most women, she loves wearing clothes with pockets (to collect endless amounts of rocks and to hold her supply of LOL dolls), dresses and yellow. She swears that her favorite color is pink but she's always drawn to yellows, which honestly works for me because she looks beautiful in the color.
The Planning
Decision making for this was hardest for me. I figured that I would start out by choosing a designer whose patterns I knew I loved. For this go round I chose Petite Stitchery. They have really fun patterns that work for the style of both abc and I. When it comes to my kids, I'm pretty conservative with what I put them in.
I knew she needed at least 3 pairs of pants, 4 tops, and 1 dress–this is her base wardrobe that can will likely be expanded. My kids tend to grow straight up like bean poles so I knew I needed styles that would last this.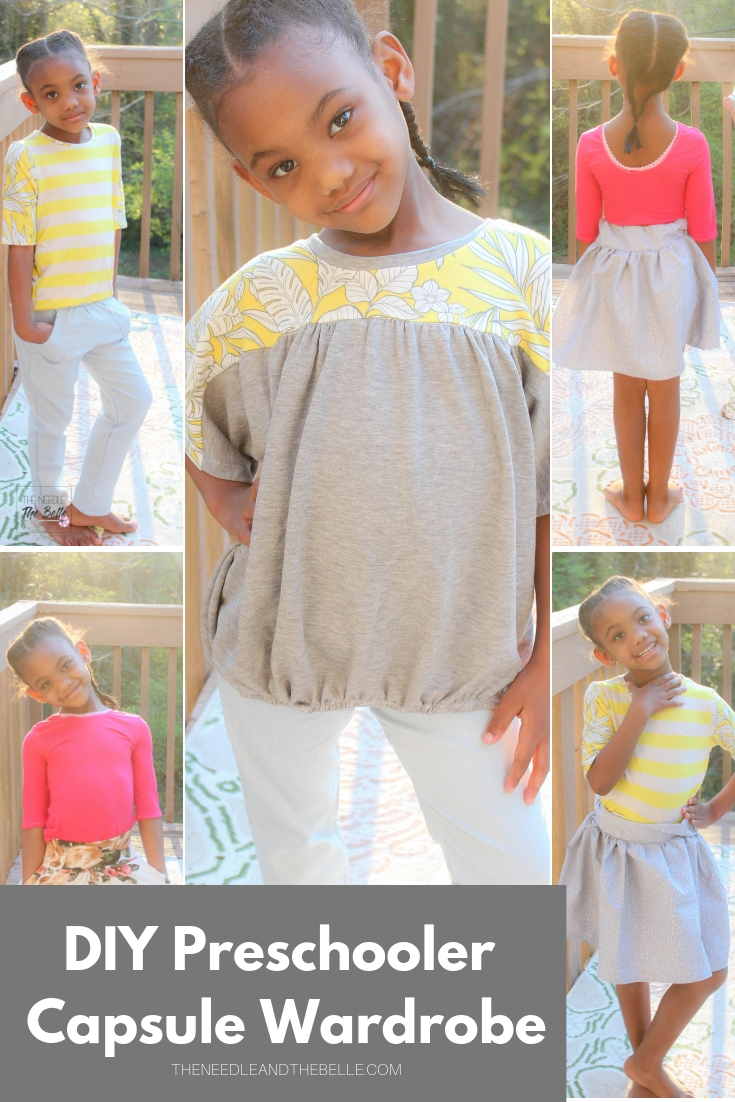 Here are the patterns I chose (clicking the name will take you to the pattern page):
The Capsule Wardrobe
So far she loves it. Having a custom capsule wardrobe for my preschool girl who is incredibly opinionated has made our lives way easier. She loves ALL the looks which is really satisfying to me too!
Have you ever created a capsule wardrobe?