About a year ago I joined a blogging tribe started by one of my sewing buddies. Since then, I've gotten pregnant, started this blog, been sewing up a storm and had a baby–in that order ha! Now that things are finally settling down, I'm joining these ladies for their blog prompts!
Sunday Lately #146
Dismantling
My bank account. I checked that baby this morning and boy have we been eating out a lot! Our bank account is totally telling on us right now and it needs a rest. This week I'm back to meal planning and prepping dinners for 2 weeks at a time. Both my pockets and waistline need this!
Occupying
My blogs. Things over here, The Crunchy Mommy and Aaronica Cole are looking might desolate! I've got deadlines coming up and maternity leave is just about over! Time to shake things up on all my sites and finish this year out strong! I'm working on editorial calendars now along with photography calendars since that's what really holds me up.
Shaking
My workout regimen up! Yeah baby! Mama is cleared for workouts and I really want to get back to the healthy lifestyle I once embodied. This means I'll be fighting for tester spots bc I'm going to be a skinny bitch but whatever!!! I'm also shaking my head that it took me so long to break out my Silhouette Cameo to make vinyls for shirts!!! I finally sat down and watched a YouTube video that broke everything down that I needed to make this happen. I mean seriously, how lazy was I being?!? I made the kids some shirts this week to celebrate Halloween–the vinyls are 30% off at Thread & Grain so get on grabbing those! How cute are they though?!?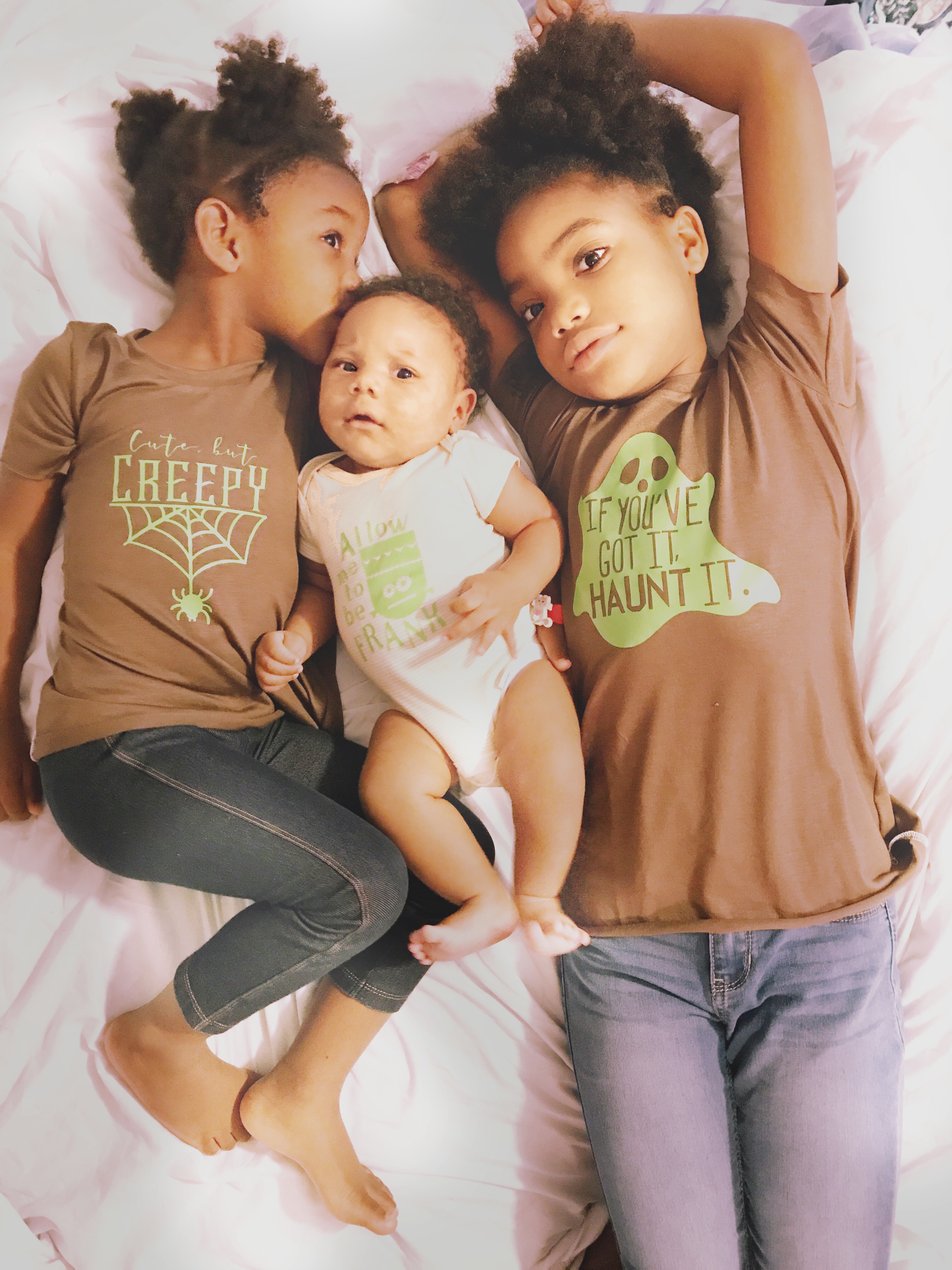 Desiring
A million dollars. Ok, but really I want to get back on track with everything from our homeschool schedule to eating right and making time for all the kids. I know, a lot. Totally doable though!!! Homeschooling kids of totally different ages can be difficult bc of the activities available for each of them so it's a juggling act.
Inhaling
Positive vibes only. Its Q4 and I've got some great goals for myself that are specific to all parts of my life and I don't need people telling me that it can't be done. I need encouragement and positivity only! Oh and caffeine ha!