This post contains affiliate links. Please see my PR & Disclosure page for details on what this means.
Wrap dresses are the epitome of femininity. They are so figure flattering AND they are nursing friendly. Now I've made plenty of wrap dresses before but they've all been made from knit fabrics–which I love. But my spring/summer boho-chic look is requiring some more woven fabrics to be used and guys, I have the perfect woven wrap dress pattern. I'm so excited to be participating in the "It's Gonna Be May" Blog Hop with this pattern!
I was nervous about making this pattern. My friend Kelly made the pattern and when I saw it on her, I knew I had to have it. She has the beautiful, hour-glass shape and this dress was just va-va-voom on her. And now it's va-va-voom on me!!! The best part about this is that there's a child's version as well. There are options galore with this ranging from mini to maxi lengths and flutter to bishop sleeves.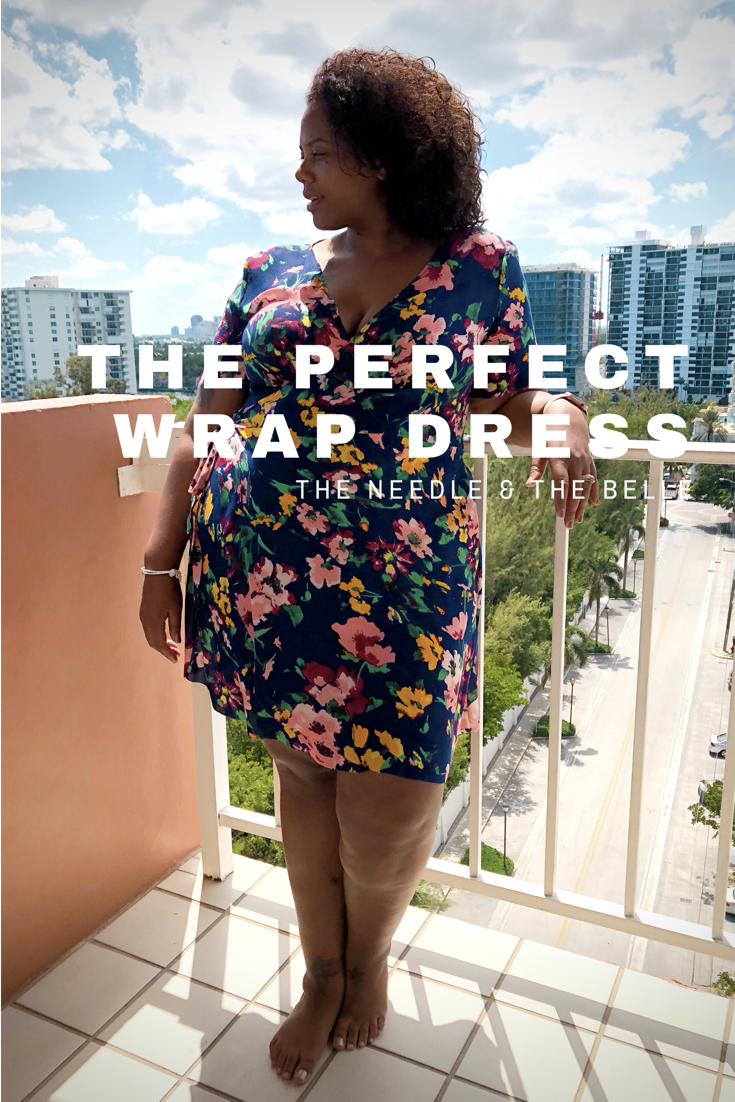 Pattern Construction
I didn't print the entire pattern off as I made the flutter sleeve, mini version. Something to note is that the print guide is not correct so if you're just printing off the mini version, pay attention to that. Other than the print guide, this dress was way easier to put together–both the paper and the fabric versions.
There is no facing or lining so that's something to note when choosing fabric. This pattern goes together super quickly–especially for a wrap dress. Once everything was cut, it took me under an hour to complete. The parts that took the longest were finishing the edges and then hemming.
Fabric & Styling
I chose a Georgette Crepe that I got from Sincerely Rylee. I loved this fabric so much I actually bought it on two separate occasions! LOL!!! I love the flowy feel that this fabric offers. While they do suggest using a fabric with good drape, I will be trying this out with an Ankara fabric to see how that looks as well.
This is honestly the perfect woven wrap dress for any occasion. The fabric that you choose is really going to be the determining factor in the styling. I'm on a beach vacation and this dress pairs perfectly with flat sandals. But I could totally see it being dressed up with heels or completely dressed down with Converse.
Rating
I gave this pattern a 3 out of 5 needles because it's a little challenging.
Did I Mention We Have A Giveaway?!?
Check out the other ladies in the "It's Gonna Be May" Blog Hop!
April 22nd:
Sewjourns
Kathy's Kwilts
Naadjesendraadjes
Diskordia's Curvy Sewing
Sewing Adventures in the Attick
Sewing Southern Belle
April 23rd:
Margarita on the Ross
Our Play Palace
The Scatty Sewer
Rebel and Malice
My Heart Will Sew On
Sewing With D
April 24th:
Sea of Estrogen
Seams Like Style
That's Sew Amy
Mahlica Designs
Leslie J's Sewing Shack
Miss Marah Sewn
April 25th:
Liviality
Lime Leaves
My Sewing Roots
Tales From a Southern Mom
Jot Designs USA
Seams Sew Lo
The Needle and The Belle
April 26th:
Candi Couture Designs
Momma Sew Savvy
Blooming Skies
Stitched By Jennie
House of Estrela
Sewing Ambi